boiler installation services
Expert Worcester Boiler Installation in Hammersmith: Why Hammersmith Gas Engineers Is Your Top Choice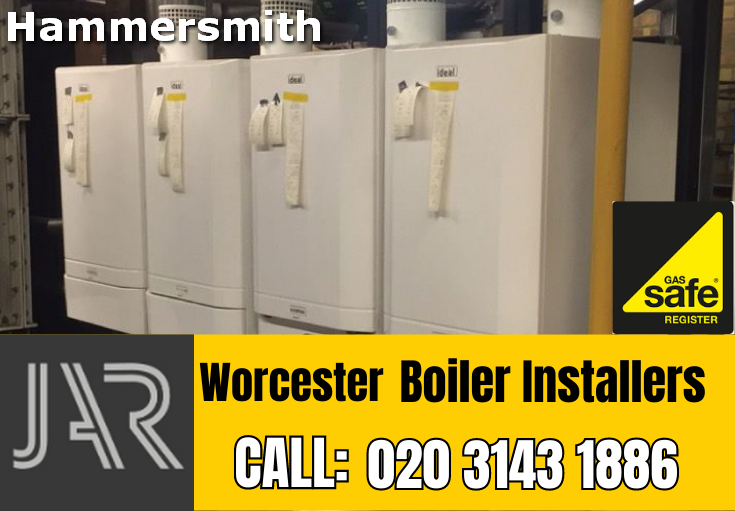 Trusted Worcester Boiler Installation in Hammersmith: Your Comfort is Our Priority
At Hammersmith Gas Engineers, we understand the importance of a reliable heating system. As winter rolls in, you don't want to be left in the cold due to a faulty boiler. Therefore, you need a boiler brand that you can trust, one that promises efficiency, durability, and high performance. That's where Worcester boilers come in.
Why Worcester Boilers?
Worcester boilers are renowned for their quality and durability. As a reputable boiler manufacturer, Worcester has been supplying the market with top-tier heating systems for many years, earning them a trusted position in many homes and businesses.
When you choose a Worcester boiler, you're choosing advanced technology, energy efficiency, and exceptional performance. These boilers are built with your needs in mind, promising you comfort during those cold winter months and beyond.
Why Choose Us for Your Worcester Boiler Installation?
At Hammersmith Gas Engineers, we've made it our mission to ensure your home or business has an effective and efficient heating system. We take great pride in offering Worcester boiler installation services in Hammersmith, which are characterized by professionalism, efficiency, and top-class customer service.
Our Experience and Expertise
We have an experienced team of certified gas engineers who are well-versed with Worcester boilers. This vast knowledge and experience allow us to provide seamless Worcester boiler installations, ensuring that your new boiler operates at its optimal performance.
Our Customer-Focused Approach
Customer satisfaction is at the heart of our operations. From the moment you contact us, our friendly team will guide you through the process, answering any queries you may have and offering expert advice on the best Worcester boiler for your specific needs. We're here for you every step of the way.
Our Competitive Pricing
We believe that everyone deserves access to high-quality heating, which is why we offer our services at competitive prices. At Hammersmith Gas Engineers, we strive to provide you with the best value for your money.
Our Guaranteed Workmanship
When we install a Worcester boiler, we guarantee top-notch workmanship. Each installation comes with a warranty, giving you peace of mind that you're in safe hands.
Our 24/7 Availability
We understand that heating issues can arise at any time. That's why our team is available 24/7, ready to assist with your heating needs.
Choose Hammersmith Gas Engineers for Your Worcester Boiler Installation
In a crowded market, it can be challenging to know whom to trust with your Worcester boiler installation in Hammersmith. However, with Hammersmith Gas Engineers, the choice becomes clear. Our commitment to high-quality service, combined with our experience and expertise in Worcester boilers, makes us your ideal partner.
Why spend another winter worrying about your heating when you can have a reliable Worcester boiler installed by Hammersmith Gas Engineers? For a smooth and efficient Worcester boiler installation in Hammersmith, contact our friendly team today. At Hammersmith Gas Engineers, your comfort is our priority.
The Process of Worcester Boiler Installation
Choosing to install a new Worcester boiler is just the beginning of the journey. At Hammersmith Gas Engineers, we ensure the process is smooth and hassle-free, minimizing disruption to your daily routine. Here is a glimpse into our systematic approach to Worcester boiler installation:
Initial Consultation
Our process begins with an initial consultation, where our team takes the time to understand your specific heating needs. This helps us recommend the most suitable Worcester boiler model for your home or business.
Professional Assessment and Quotation
Next, we conduct a professional site assessment to identify any potential challenges that might affect the installation process. This detailed evaluation allows us to provide an accurate quotation, so you know exactly what to expect.
Installation Day
On the agreed installation day, our team arrives promptly, equipped with all necessary tools to perform a safe and efficient Worcester boiler installation. We treat your property with respect, ensuring we leave it as clean as we found it.
Post-Installation Support
After the installation, our support doesn't end. We provide thorough guidance on how to use and maintain your new Worcester boiler, ensuring you get the most out of your investment. Plus, our team is always just a phone call away if you have any questions or need further assistance.
Why Delay? Contact Hammersmith Gas Engineers Today
At Hammersmith Gas Engineers, we're all about ensuring your comfort and peace of mind. Our team is dedicated to providing professional, reliable Worcester boiler installation in Hammersmith, promising you a warm and comfortable environment in your home or business. With our expertise and commitment to customer satisfaction, we've built a reputation as a trusted partner for Worcester boiler installation.
So, why delay? If you're in Hammersmith and need a new Worcester boiler installed, contact us today. Let us show you what sets us apart and why Hammersmith Gas Engineers is your go-to company for all your heating needs.
FAQs:
What type of Worcester boilers do Hammersmith Gas Engineers install?
A1: At Hammersmith Gas Engineers, we install a wide range of Worcester boilers to meet various heating requirements. Our experienced team can help guide you to the best model for your needs.
How long does a Worcester boiler installation take?
A2: The time it takes to install a Worcester boiler can vary depending on specific factors, including the complexity of the installation and the model of the boiler. Our team aims to complete installations as efficiently as possible while maintaining high-quality workmanship.
Do Hammersmith Gas Engineers offer any aftercare services following a Worcester boiler installation?
A3: Yes, we provide comprehensive post-installation support, including guidance on how to use and maintain your new Worcester boiler. Our team is always on hand to answer any questions you might have.
Is Hammersmith Gas Engineers a licensed and insured company?
A4: Absolutely! Hammersmith Gas Engineers is a fully licensed, bonded, and insured company, assuring our customers of our professionalism and commitment to safety.