gas installation services
Gas Installation Services in Hammersmith - for Safe and Reliable Installations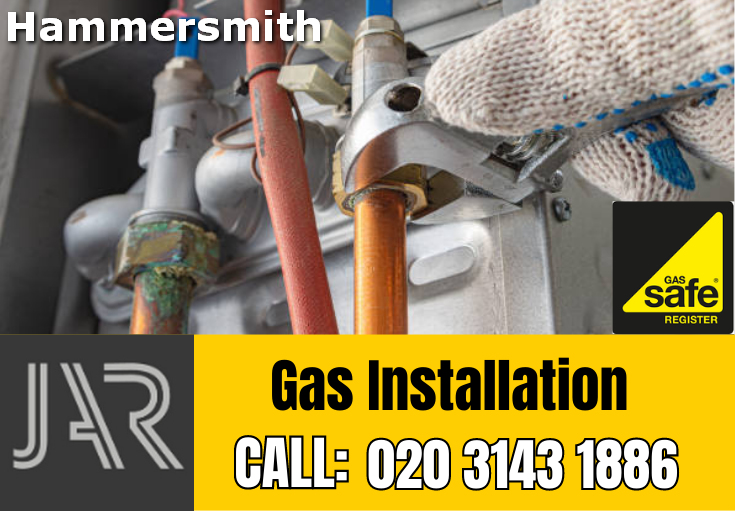 Gas Installation Hammersmith: Your Top Choice for Safety and Efficiency Hammersmith, W6
At Hammersmith Gas Engineers, we take pride in offering top-notch gas installation services. Our reputation in Hammersmith and the surrounding areas speaks to our commitment to excellence, customer satisfaction, and safety.
Trust the Experts
Dealing with gas appliances can be risky if you're not familiar with the necessary safety precautions and standards. This is why gas installation is a job best left to licensed professionals. Our team of experts at Hammersmith Gas Engineers is fully certified, experienced, and skilled in handling all types of gas installations.
A Wide Range of Brands
We understand that each home or business has its unique needs. Therefore, we work with a broad range of gas appliance brands to cater to these varying requirements. Some of the popular brands we deal with include Bosch, Vaillant, Worcester Bosch, Baxi, Potterton, Ideal, Main, Ferroli, Viessmann, Glow-Worm, Alpha, Ariston, Ravenheat, Remeha, Keston, Halstead, Biasi, Johnson & Starley, Heatline, Saunier Duval, Sime, Gledhill, Chaffoteaux, Myson, Rointe, Zanussi, Indesit, Hotpoint, AEG, Smeg, Miele, Neff, Hoover, Candy, Baumatic, Electrolux, Whirlpool, Samsung, and Beko.
Uncompromised Safety
When it comes to gas installations, safety is paramount. Our team of Gas Safe certified engineers follows the most stringent safety protocols during installation to ensure the safety of your home or business. We ensure all connections are secure, and appliances are functioning efficiently before we consider our job done.
Exceptional Customer Service
At Hammersmith Gas Engineers, we put our customers first. From the moment you reach out to us to the completion of the installation, you can expect courteous and professional service. Our team is ready to answer any questions you may have, guide you in selecting the best gas appliances for your needs, and schedule the installation at your convenience.
Experience and Skill
Our team has years of experience dealing with a broad spectrum of gas appliances. Whether you need a new boiler, stove, oven, or any other gas appliance installed, we have the skills and knowledge to do the job right the first time.
Why Choose Hammersmith Gas Engineers
In Hammersmith, there are numerous gas installation companies to choose from. But here's why we stand out from the crowd:
Licensed and Insured: We are fully licensed, bonded, and insured. This means you can have peace of mind knowing you're dealing with professionals who have your best interests at heart.

High-quality Workmanship: Our engineers are skilled at what they do. We pay attention to every detail and make sure the installation is done correctly and efficiently.

Exceptional Customer Service: We pride ourselves on delivering outstanding customer service. We treat our customers with respect, and we're always willing to go the extra mile to ensure you're satisfied.

Clean and Trustworthy: We respect your property and strive to keep the work area as clean as possible. Also, all our engineers are trustworthy and conduct themselves with the highest level of professionalism.

Personalized Service: As an established company in Hammersmith, we are dedicated to providing personalized service that caters to your specific needs.

Friendly and Personable: We understand the importance of building strong relationships with our customers. Our engineers are not only skilled professionals but also friendly and personable.
So, for reliable and efficient gas installation in Hammersmith, contact Hammersmith Gas Engineers. Your safety and satisfaction are our top priority. Reach out to us today to schedule an appointment.
Round-the-Clock Support
At Hammersmith Gas Engineers, we understand that you may need assistance or guidance at any time of the day or night. That's why we offer 24/7 customer support. Whether you have a question about our services, want to schedule an appointment, or need urgent help, our team is just a phone call away.
Future Maintenance and Services
A key part of ensuring the longevity of your gas appliances is regular maintenance. With Hammersmith Gas Engineers, the relationship doesn't end with the installation. We offer ongoing maintenance services to keep your appliances in optimal condition. We're also there for you if you ever face a problem or if your appliance requires repair.
Competitive Pricing
At Hammersmith Gas Engineers, we believe in providing high-quality services at competitive prices. We strive to offer the best value for your money. The cost of our gas installation services is transparent and straightforward, with no hidden charges.
Commitment to Green Practices
We're not just committed to providing excellent services to our customers; we're equally dedicated to protecting our environment. We follow sustainable practices in our operations, striving to minimize our carbon footprint.
Staying Updated
Gas installation technology and standards are constantly evolving. Our team at Hammersmith Gas Engineers ensures they stay updated with the latest industry developments. This continuous learning and professional development allow us to provide the most efficient, safe, and up-to-date service possible.
Choosing the right team for your gas installation needs in Hammersmith is critical. With Hammersmith Gas Engineers, you're not only getting a service provider; you're partnering with a team that is committed to your safety, satisfaction, and peace of mind.
Whether it's a new installation or replacing an old appliance, we have the experience, skill, and dedication to deliver excellent service. Our reputation in Hammersmith is built on our commitment to our customers and the quality of our work.
Choose Hammersmith Gas Engineers for all your gas installation needs. Contact us today to discuss your requirements and schedule an appointment. We look forward to serving you.
Ravenheat, Main, Baxi, Saunier Duval, ELCO, Ideal Commercial Boilers, Candy, Navien, Halstead, ACV, Kospel, Warmhaus, Ideal, Potterton, Alpha, Electrolux, Glow-worm, Potterton Commercial, Protherm, Strebel, Trianco, Myson, Biasi, Atag, Rointe, Bosch, Ariston, Whirlpool, Ferroli, Zanussi, Sime, Firebird, Lochinvar, Broag Remeha, Lamborghini, Vokèra, Glow-Worm, AEG, MHS Boilers, Vaillant, Viessmann, Alpha Heating Innovation, Keston, WarmZilla, Biasi UK, Indesit, Vokera, Neff, Miele, Johnson & Starley, Beko, Hotpoint, Intergas, Fer, Grant, Rinnai, Warmflow, Eco Hometec, Atlantic Boilers, Heatline, Worcester Bosch, Chaffoteaux, Mistral, Morco, Hoover, Elnur, Gledhill, Smeg, Baumatic, Remeha, Samsung, Immergas,
FAQs
1. What types of gas appliances do you install?
We install a variety of gas appliances, including gas boilers, cookers, fireplaces, ovens, and central heating systems. We work with all leading brands available in the UK.
2. Are you available for emergency gas installation services in Hammersmith?
Yes, we offer emergency gas installation services in Hammersmith. We understand the urgency that some situations require, and we aim to provide prompt and efficient service in such instances.
3. Are your gas engineers certified?
Absolutely! All our gas engineers are Gas Safe registered, which is the legal requirement for anyone working on gas appliances in the UK.
4. How can I schedule an appointment for a gas installation service?
You can schedule an appointment by contacting us via phone or email. Our customer service team is available 24/7 to assist you.
5. Do you provide a warranty on your gas installation services?
Yes, we provide a warranty on our gas installation services. The exact length and terms of the warranty may vary depending on the specific service or appliance, which our team can explain in detail.
6. What are your charges for gas installation services?
Our charges for gas installation services are competitive and transparent. The exact cost will depend on the specific service and appliance. We can provide a detailed quote upon request.
7. Do you offer maintenance services for gas appliances?
Yes, we offer ongoing maintenance services to ensure your gas appliances continue to operate efficiently and safely. We recommend regular servicing to help prevent future issues and maximize the lifespan of your appliances.
8. What measures do you take to ensure safe gas installation?
We adhere to all safety regulations and guidelines outlined by the Gas Safe Register. Our engineers are fully trained and experienced in handling gas appliances safely. We conduct thorough checks before, during, and after the installation to ensure safety.
9. How quickly can you carry out a gas installation?
The timeframe for a gas installation depends on the complexity of the job and the specific appliance. However, we aim to complete installations as swiftly and efficiently as possible, without compromising on safety or quality.
10. Are you knowledgeable about the latest gas installation technologies and standards?
Yes, our team stays updated with the latest industry developments, technologies, and standards. This continuous learning enables us to provide the most efficient and up-to-date service possible.