smart thermostat installation services
Revolutionize Your Home Comfort with Smart Thermostat Installation in Hammersmith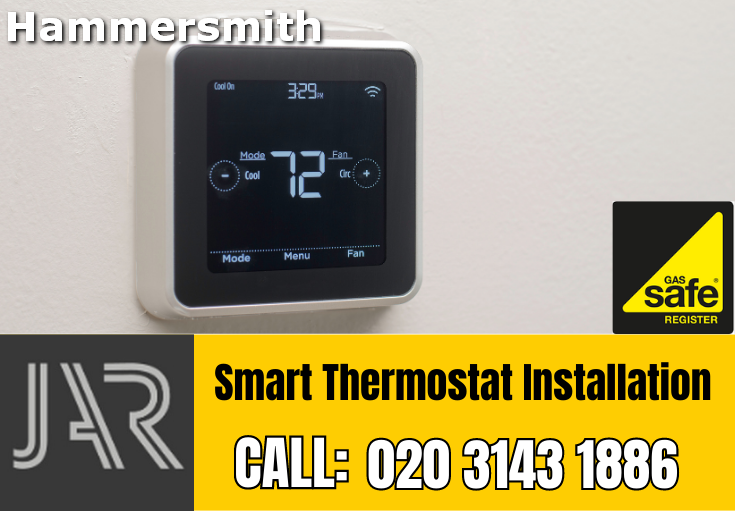 Experience Smart Living with Hammersmith Gas Engineers: Your Premier Choice for Smart Thermostat Installation in Hammersmith
At Hammersmith Gas Engineers, we take immense pride in providing top-quality smart thermostat installation in Hammersmith. Our highly skilled and experienced engineers ensure that your home is equipped with the latest in heating technology to maximise comfort and minimise costs. Let's delve into the many benefits of smart thermostats and why we're the right choice for your installation needs.
Why Choose a Smart Thermostat?
Smart thermostats offer a plethora of benefits that make them an appealing addition to any home. With features like remote access, learning capabilities, and energy usage reports, they provide homeowners with a new level of control over their heating and cooling systems.
Remote Access: Smart thermostats can be controlled remotely from any device with internet access. This means you can adjust your home's temperature while you're at work, on vacation, or just out for the evening.

Learning Capabilities: Many smart thermostats can learn your schedule and preferences, automatically adjusting the temperature to save energy while still keeping your home comfortable.

Energy Usage Reports: Smart thermostats provide detailed reports on your energy usage, helping you make informed decisions to further reduce your energy costs.
Why Choose Hammersmith Gas Engineers for Your Smart Thermostat Installation?
At Hammersmith Gas Engineers, we believe in the power of smart technology to transform homes into more comfortable and energy-efficient spaces. Here's why you should entrust us with your smart thermostat installation in Hammersmith:
Expertise and Experience: Our team of Gas Safe registered engineers have years of experience and comprehensive knowledge about smart thermostat technology. They have been rigorously trained to install a variety of models, ensuring flawless execution.

Customer-Centric Approach: We place our customers at the centre of everything we do. We take time to understand your specific needs and preferences to provide a tailored installation service that matches your lifestyle.

Quality Service: From your initial consultation through the installation process and beyond, we are committed to delivering high-quality service. We are punctual, professional, and leave your home as clean as when we arrived.
Get Your Smart Thermostat Installed Today!
A smart thermostat isn't just a gadget; it's an investment in your home, your comfort, and the environment. It's time to upgrade your home with smart thermostat technology and experience the convenience and savings it offers.
At Hammersmith Gas Engineers, our expert team is ready to bring your home into the modern age with smart thermostat installation. Contact us today to schedule a consultation and join the hundreds of satisfied Hammersmith residents who have chosen us for their installation needs.
Thermostats We Specialise In
As leading providers of smart thermostat installation services in Hammersmith, we are well-versed with a wide array of brands and models. Some of the most popular ones we install include:
Nest Learning Thermostat: This smart device learns your schedule and the temperatures you like. It programs itself to help save energy, and you can control it from anywhere with the Nest app.

Hive Active Heating: Hive lets you control your heating from your smartphone. It also enables you to boost your heating, set daily schedules, and more.

Honeywell Home T9 WIFI Smart Thermostat: This device comes with sensor technology that focuses on the rooms that matter most. With multi-room display on the Honeywell Home T9 Smart Thermostat, you can focus comfort where it matters most.

Ecobee SmartThermostat: With built-in Alexa voice service, a state-of-the-art SmartSensor, and superior energy savings, the Ecobee SmartThermostat is more than just smart - it's thoughtfully designed.
How We Make The Installation Process Easy for You
Our goal at Hammersmith Gas Engineers is not just to provide you with excellent smart thermostat installation services but to also ensure a hassle-free and enjoyable experience.
Step 1: Initial Consultation: Our process begins with a consultation where we assess your home and heating system to recommend the best smart thermostat based on your specific needs and lifestyle.

Step 2: Professional Installation: Our Gas Safe registered engineers will professionally install your smart thermostat, ensuring that it's set up correctly and functioning optimally.

Step 3: Demonstration and Guidance: Once installed, we will guide you through how to use your new device, explaining all its features and functionalities. We ensure you're comfortable with operating your new thermostat before we leave.

Step 4: After-Sale Support: Our commitment to you does not end with the installation. We provide ongoing support and are always just a phone call away if you have any queries or issues.
Invest in Comfort and Efficiency Today with Hammersmith Gas Engineers
As we move into the future, technologies like smart thermostats will become an integral part of our homes. At Hammersmith Gas Engineers, we're here to help you make that transition smoothly. With our expertise, dedication to customer satisfaction, and commitment to providing top-quality services, we are the perfect choice for your smart thermostat installation in Hammersmith.
Don't wait to experience the comfort, convenience, and energy savings a smart thermostat offers. Contact Hammersmith Gas Engineers today and let us enhance your living space. We are eager to serve you and help you make your home smarter and more efficient.
With Hammersmith Gas Engineers, you can rest assured that you're in safe and capable hands for all your gas engineering needs. Contact us today to schedule your smart thermostat installation!
FAQs:
What brands of smart thermostats do you install?
We install a wide variety of smart thermostats, including but not limited to Nest Learning Thermostat, Hive Active Heating, Honeywell Home T9 WIFI Smart Thermostat, and Ecobee SmartThermostat.

How does the installation process work?
Our process begins with a consultation where we assess your needs, followed by professional installation by our Gas Safe registered engineers. We then guide you through how to use your new device, explaining all its features. We also provide ongoing support after the installation.

Why should I install a smart thermostat?
A smart thermostat offers comfort, convenience, and energy savings. It allows you to control your heating remotely, learn your schedule, and adjust accordingly to save energy.

Why should I choose Hammersmith Gas Engineers for my smart thermostat installation?
At Hammersmith Gas Engineers, we have the expertise, commitment to customer satisfaction, and provide top-quality services. We are Gas Safe registered and experienced in handling a variety of smart thermostat brands.