boiler installation services
Trusted Ideal Boiler Installation in Hammersmith by Hammersmith Gas Engineers: Your Comfort is Our Priority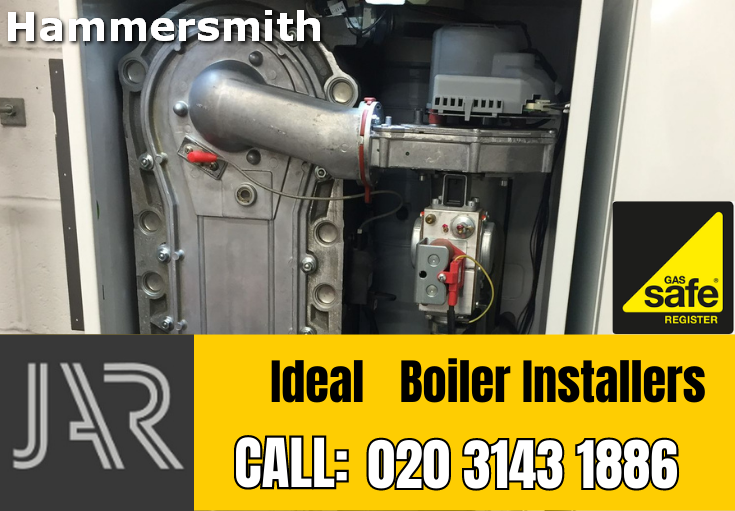 Ideal Boiler Installation Hammersmith: Why You Need Hammersmith Gas Engineers
In the contemporary world where comfort and efficiency are paramount, the role of a boiler system cannot be overemphasized. And when it comes to boiler brands that offer top-tier comfort, performance, and energy efficiency, Ideal boilers stand out. However, even the best boilers will not deliver the expected value without proper installation. This is where we, Hammersmith Gas Engineers, come in.
Why You Need a Professional for Your Ideal Boiler Installation in Hammersmith, W6
An Ideal boiler installation is not just about connecting a few pipes. It involves a series of detailed procedures that require professional handling.
Safety: Gas appliances can be hazardous if not installed correctly. Our Gas Safe registered engineers have the expertise to ensure a safe and accurate installation.

Efficiency: Incorrect installation can drastically reduce a boiler's efficiency, leading to increased fuel costs. Our team ensures that your Ideal boiler operates at its maximum efficiency.

Longevity: A properly installed boiler will last longer and will be less prone to breakdowns and frequent repairs.
What Sets Hammersmith Gas Engineers Apart?
At Hammersmith Gas Engineers, we take pride in providing professional, reliable, and cost-effective services. Here's why you should call us for your Ideal Boiler installation in Hammersmith:
Expertise and Experience
With years of experience in the field, we have developed a deep understanding of various boiler models, including the full range of Ideal boilers. Our team is skilled in the latest installation techniques and standards.
Top-Notch Customer Service
Customer satisfaction is our top priority. We are not just about getting the job done; we are about getting it done right, meeting your specific needs and leaving you completely satisfied.
24/7 Availability
We understand that the need for a new boiler installation can arise at any time. That's why our services are available 24/7. We are always ready to attend to your needs promptly.
Certified and Insured
We are Gas Safe registered, meaning we meet the official standard for gas safety in the UK. Plus, we are fully insured, offering you extra peace of mind.
Why Ideal Boilers?
Ideal Boilers have been in the heating business for over 100 years, delivering products that are reliable, easy-to-use, and energy-efficient.
Ideal Boiler Range
Ideal Boilers offers a wide range of models suitable for different types of homes and commercial buildings. They include the Ideal Logic, Ideal Vogue, and Ideal Mexico ranges. All these models come with manufacturer guarantees for your peace of mind.
Ideal Boiler Installation Process
We follow a comprehensive process to ensure successful boiler installation:
Initial consultation: We discuss your specific requirements and help you choose the right Ideal boiler model.
Site survey: We conduct a thorough assessment of your property to plan the installation process.
Installation: Our engineers carry out the installation swiftly and efficiently, adhering to all safety regulations.
Final Checks and Demonstration: After installation, we perform checks to ensure everything is working perfectly. We then show you how to operate your new boiler.
Installing an Ideal boiler is a significant investment towards your comfort and energy efficiency. Therefore, it's crucial to entrust this task to experts. Hammersmith Gas Engineers is committed to delivering top-quality installation services to ensure you get the most out of your Ideal boiler. Contact us today for your Ideal boiler installation in Hammersmith.
An Extension of Your Comfort
At Hammersmith Gas Engineers, we know how critical it is to have a properly functioning boiler, especially during the coldest months. Ideal boilers, renowned for their reliability and superior quality, significantly enhance your home's comfort level. Yet, the true comfort lies in the assurance that your boiler is installed correctly, runs efficiently, and is handled by professionals when problems arise.
Quality and Reliability Assured
Our expertise is rooted in our dedication to quality and reliability. We don't believe in shortcuts or substandard services. Our team meticulously assesses your property, considering the number of rooms, insulation, and your heating needs to recommend the most suitable Ideal boiler model. This ensures you get a boiler that's perfect for your requirements and capable of providing efficient service for many years to come.
Adherence to Regulations
As professionals, we strictly adhere to the latest safety regulations and guidelines during the installation process. Our Gas Safe registered engineers uphold the highest standards, minimizing the risks associated with gas appliances. Rest assured, your Ideal boiler installation will be handled with the utmost care and precision.
Tailored Aftercare Service
Once your Ideal boiler is installed, our job does not end there. We provide comprehensive aftercare service, offering advice on boiler maintenance and quick assistance should any problem arise. This makes us not just a service provider, but a partner you can rely on long after the installation process.
Save Time and Money
Choosing to have your Ideal boiler installed by Hammersmith Gas Engineers is a decision that saves you both time and money. Incorrect boiler installation can lead to frequent breakdowns, require costly repairs, and shorten the lifespan of your boiler. With us, you receive the guarantee of a job well done from the outset, which leads to efficient operation, fewer repairs, and extended boiler lifespan.
To reap the full benefits of your Ideal boiler, you need a professional installation. At Hammersmith Gas Engineers, we pledge to deliver superior quality, reliability, and customer satisfaction. Don't compromise on your comfort or safety. Contact us today for your Ideal boiler installation in Hammersmith, and enjoy the warmth and peace of mind you deserve.
FAQ:
Q: Do you offer Ideal boiler installation services in Hammersmith?
Yes, we do. Our team of Gas Safe registered engineers can install a wide range of Ideal boilers to meet your specific heating needs.
Q: Why should I choose Hammersmith Gas Engineers for my Ideal boiler installation?
At Hammersmith Gas Engineers, we guarantee professional service, quality workmanship, and customer satisfaction. We adhere to safety regulations and provide comprehensive aftercare service, making us a reliable choice for your boiler installation needs.
Q: How can I schedule an Ideal boiler installation with Hammersmith Gas Engineers?
You can get in touch with us via our website or contact number to schedule your Ideal boiler installation. Our team is ready to provide you with superior service.
Q: Do you provide aftercare service after the Ideal boiler installation?
Yes, we provide a comprehensive aftercare service for your Ideal boiler, offering advice on maintenance and quick assistance if any problems arise.