boiler installation services
Expert Boiler Installation Services by Hammersmith Gas Engineers: Efficiency and Reliability Guaranteed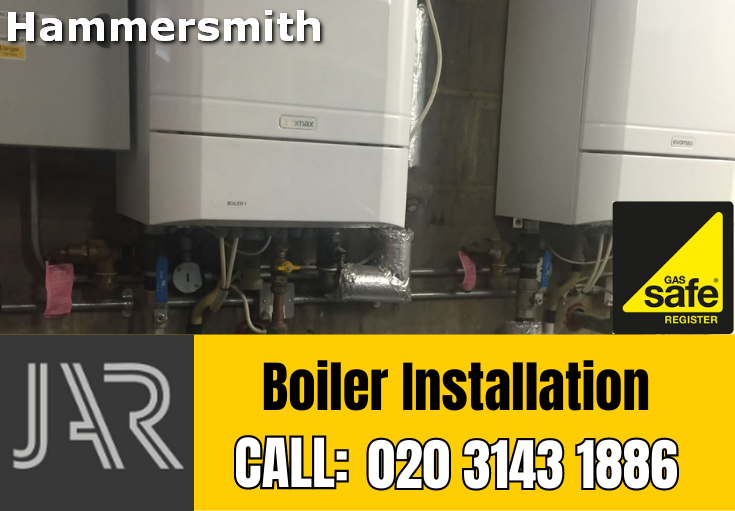 The Essential Need for Professional Boiler Installation: Why You Should Call Hammersmith Gas Engineers
Choosing a professional for your boiler installation is no small decision. Your boiler is one of the most essential components of your property, responsible for providing you with warm water and a comfortable, heated environment. At Hammersmith Gas Engineers, we understand the importance of this vital task and the complexities that accompany it. We're here to take the burden off your shoulders, delivering efficient, reliable, and professional boiler installation services that meet your specific needs.
Why Professional Boiler Installation is Crucial in Hammersmith, W6
Boiler installation is not merely about placing a unit in your home or business. It's a careful process that involves technical knowledge, expertise, precision, and a clear understanding of your property's heating requirements.
Safety First
We prioritize safety. Our team of experienced engineers is licensed and thoroughly trained to handle the installation process, ensuring that the boiler's fitting adheres to all safety guidelines and standards. We perform comprehensive checks post-installation, ensuring that the system operates correctly and safely.
Right Boiler for Your Needs in Hammersmith
With a myriad of boiler types and brands in the market, selecting the perfect fit for your property can be daunting. We make this process simple by assessing your property's heating requirements and recommending the most suitable, energy-efficient boiler that aligns with your needs and budget.
Optimal Efficiency
A properly installed boiler operates at maximum efficiency, conserving energy, and reducing utility costs. We ensure your new boiler is correctly sized and installed to maximize efficiency and provide you with significant energy savings in the long run.
Our Services Beyond Boiler Installation Hammersmith, W6
At Hammersmith Gas Engineers, our services extend beyond boiler installation. We're committed to ensuring the longevity of your boiler and the continuous comfort of your property.
Boiler Servicing & Repairs
Regular servicing is crucial to maintain the efficiency of your boiler and avoid potential breakdowns. Our engineers provide professional boiler servicing, assessing the health of your boiler, identifying any underlying issues, and fixing them before they escalate into significant problems.
Gas Safety Inspection Certificate Checks
We conduct thorough gas safety inspections and provide certificates, an essential document for landlords and commercial property owners. These inspections are vital to ascertain the safety and functionality of your boiler and other gas appliances.
24/7 Emergency Services
Understanding the critical nature of boiler issues, we offer round-the-clock emergency services. Whether it's a boiler breakdown or urgent repair, our engineers are on call 24/7, providing prompt and reliable services when you need them most.
Why Choose Hammersmith Gas Engineers
Choosing Hammersmith Gas Engineers for your boiler installation and associated services guarantees you peace of mind, reliability, and high-quality workmanship.
Licensed, Insured, and Bonded
Every member of our team is licensed, insured, and bonded, meeting the strictest safety standards in boiler installation and other services we offer.
High-Quality Workmanship
We pride ourselves on our high-quality workmanship, reflecting in our efficient, durable, and reliable boiler installations. Each installation task we undertake is done with precision and a keen eye for detail, ensuring your boiler serves you efficiently for years to come.
Customer Service Excellence
Customer satisfaction is at the heart of our operations. We strive to offer exceptional customer service, understanding your needs, answering your questions, and ensuring you're comfortable throughout the process.
Trustworthy and Clean
We respect your property. Our team maintains a clean working environment during and after the installation process, leaving your property as clean as we found it.
Boiler installation is a task that demands professional attention. With Hammersmith Gas Engineers, you get more than just a service - you get a partnership. We understand your needs, value your comfort, and are dedicated to providing services that not only meet but exceed your expectations. For boiler installation and other associated services, remember, nobody wows clients like we do.
Family Owned & Operated
As a family-owned and operated business, we carry the values of integrity, respect, and commitment to all our services. We treat our customers like family, ensuring that every service we provide is delivered with care, professionalism, and the high standards we would want for our own homes or businesses.
We're Personable & Friendly
We believe that providing excellent service goes beyond technical expertise. Our team is not only skilled in what they do but is also personable and friendly. We seek to create a comfortable and positive environment, taking the time to understand your needs, explain our processes, and answer any questions you might have.
Comprehensive Aftercare Services
At Hammersmith Gas Engineers, we provide comprehensive aftercare services after your boiler installation. We're committed to ensuring that your boiler continues to operate optimally, providing regular servicing, maintenance, and repairs as needed. Our team is always just a phone call away, ready to assist with any issues you may encounter with your boiler.
Working With the Best Brands in the Industry
At Hammersmith Gas Engineers, we understand the importance of using high-quality products for our boiler installations. That's why we work with some of the most reputable brands in the UK to ensure the longevity and efficiency of your heating system.
Vaillant: Known for their range of eco-friendly heating and cooling solutions, Vaillant offers high-performance boilers designed with sustainability in mind.

Worcester Bosch: A popular choice among UK homeowners and businesses, Worcester Bosch boilers are renowned for their reliability, efficiency, and top-quality build.

Baxi: With a rich history dating back over 150 years, Baxi is a trusted name in the UK, offering a wide range of innovative and energy-efficient boilers.

Ideal: Ideal boilers are praised for their straightforward installation, user-friendly design, and excellent value for money.

Viessmann: A global leader in heating technology, Viessmann boilers are known for their advanced engineering, high energy efficiency, and long service life.

Ariston: As one of the world's leading companies in heating and water heating solutions, Ariston offers a variety of high-performance and durable boilers.
By utilizing these top-tier brands, we ensure your boiler installation is of the highest standard, providing efficient and dependable heating for your property. Our team is fully trained and experienced in installing and servicing these brands, so you can trust in our expertise and knowledge.
For boiler installation in Hammersmith, don't settle for less. Choose Hammersmith Gas Engineers for superior service and top-quality products. Contact us today to learn more about our services and how we can meet your heating needs.
Call Us Today!
Whether it's a boiler installation, repair, or maintenance service, we at Hammersmith Gas Engineers are ready to serve you. Our combination of technical expertise, commitment to safety, and exceptional customer service makes us your best choice for all your boiler-related needs. Call us today for a service that guarantees satisfaction and peace of mind.
FAQs:
What brands do Hammersmith Gas Engineers use for boiler installation? Hammersmith Gas Engineers works with some of the most reputable brands in the UK, including Vaillant, Worcester Bosch, Baxi, Ideal, Viessmann, and Ariston.

Why should I choose Hammersmith Gas Engineers for my boiler installation? Hammersmith Gas Engineers offers high-quality workmanship, exceptional customer service, and utilizes top-tier boiler brands for installations. We are licensed, bonded, insured, and our team is comprised of clean, trustworthy plumbers.

Are the plumbers at Hammersmith Gas Engineers certified? Absolutely! Each member of our team holds the necessary Gas Safe Register licence to operate professionally within the field.

What other services does Hammersmith Gas Engineers offer? Besides boiler installation, we provide a comprehensive range of services including boiler repairs, Gas Safe certificates, power flush, commercial heating services, and more.

What areas do Hammersmith Gas Engineers cover? We offer our services in Hammersmith and surrounding areas. Please contact us to find out if we cover your location.