conventional boiler services
Superior Conventional Boiler Services in Hammersmith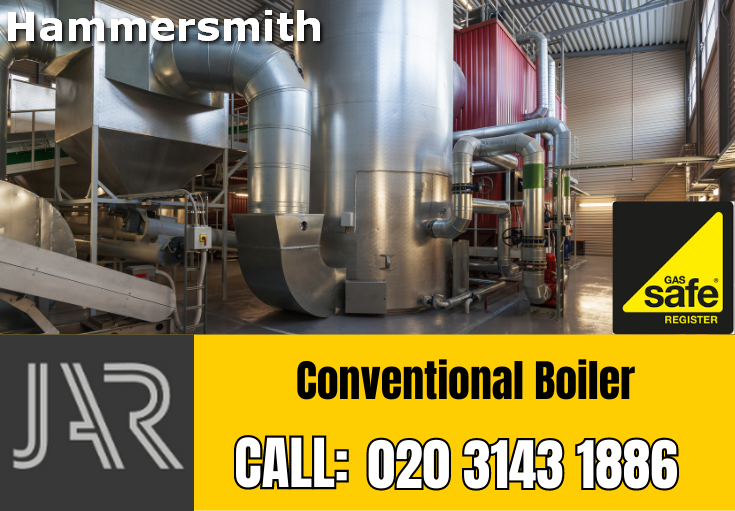 Conventional Boiler Services in Hammersmith: Choose Hammersmith Gas Engineers for Reliable Solutions
Understanding Conventional Boilers and Why They Are Essential
Conventional boilers, also known as heat only or regular boilers, play a critical role in many homes in Hammersmith. They are often the preferred choice for large households with multiple bathrooms, where hot water needs can be high and simultaneous. The design of a conventional boiler allows for simultaneous supply to different taps, a benefit that makes them indispensable in such settings.
At Hammersmith Gas Engineers, we have the expertise to handle conventional boiler installations, repairs, and servicing. We know how crucial these systems are for your comfort, and we strive to provide swift, efficient service to ensure minimal disruption to your routine.
Why Choose Hammersmith Gas Engineers for Your Conventional Boiler Needs in Hammersmith
As your local Hammersmith gas engineers, we bring our extensive experience and professionalism to every job we undertake. We have dealt with every type of conventional boiler issue, from routine maintenance checks to emergency breakdowns and new installations. We understand the intricacies of these systems and can troubleshoot problems effectively and efficiently.
Moreover, we are a Gas Safe Registered company, which means our team has the required training, skills, and qualifications to work safely and legally on your gas appliances, including your conventional boiler. We prioritize your safety above all else.
Reliable Conventional Boiler Installation Services in Hammersmith
When it comes to installing a new conventional boiler, Hammersmith Gas Engineers is a name you can trust. We offer comprehensive consultation and installation services, helping you choose the right boiler that suits your household needs and budget. Our technicians follow best industry practices to ensure a smooth, safe installation process.
Swift and Efficient Conventional Boiler Repairs in Hammersmith
Boiler breakdowns can be a significant inconvenience, especially during the cold months. As your local gas engineers, we promise quick response times and efficient repairs. Our vans are fully stocked with common spare parts, enabling us to complete most repairs in a single visit. Whether it's a minor issue or a major fault, we will have your boiler back up and running in no time.
Routine Conventional Boiler Servicing for Longer Lifespan
Regular servicing can prolong your boiler's lifespan, maintain its efficiency, and ensure it operates safely. Our comprehensive servicing checks all components of your boiler, identifies potential issues, and corrects them before they lead to expensive repairs. Servicing your boiler annually is a small investment that can save you money in the long run.
24/7 Emergency Conventional Boiler Services in Hammersmith
We understand that emergencies can occur at any time. That's why we offer 24/7 emergency boiler services in Hammersmith. No matter the time of day or night, our engineers will be at your service, ensuring your home's heating and hot water supply is restored as quickly as possible.
Your conventional boiler plays a crucial role in your home, and you need a reliable company to handle its installation, repair, and maintenance needs. At Hammersmith Gas Engineers, we bring our expertise, professionalism, and commitment to customer satisfaction to ensure your boiler operates optimally and safely. Don't compromise your comfort; contact us today for all your conventional boiler needs in Hammersmith.
Importance of Professional Service
One cannot stress enough the importance of professional service when it comes to the installation, repair, and maintenance of conventional boilers. DIY fixes might seem tempting, especially with countless tutorials available online, but working on gas appliances requires extensive knowledge, training, and experience. Any mistake can lead to potential gas leaks, posing a risk to you and your family's safety.
At Hammersmith Gas Engineers, we emphasize the importance of safety and quality. Our engineers are not only trained and qualified, but they also participate in ongoing training to stay updated with the latest boiler technologies and safety guidelines. We make sure that every job we undertake adheres to the highest safety standards and complies with the regulations set by the relevant authorities.
Affordable Services Without Compromising Quality
One of the reasons many residents in Hammersmith trust us with their conventional boiler needs is our affordable pricing. We believe that quality boiler services should be accessible to everyone. Therefore, we ensure our pricing remains transparent and competitive. Our quotes have no hidden costs – what we quote is what you pay. But even with affordable pricing, we do not compromise on the quality of our services.
Customer Satisfaction is Our Priority
At Hammersmith Gas Engineers, customer satisfaction is not just a phrase; it's our business's backbone. We believe that every job, no matter how small or big, deserves our full attention and expertise. Our commitment to customer satisfaction means we do not consider our job done until you are fully satisfied with our service.
We listen to our customers, understand their needs and concerns, and provide tailored solutions that best meet their requirements. We respect your home, making sure to leave it as clean and tidy as we found it.
Choose Hammersmith Gas Engineers for Your Conventional Boiler Needs
When you choose Hammersmith Gas Engineers for your conventional boiler needs in Hammersmith, you're not just getting a service; you're investing in peace of mind. From our initial consultation to the completion of the job, we make sure the process is as smooth and stress-free as possible for you.
Whether you need a new conventional boiler installed, an existing one repaired, or you're due for your annual boiler service, we are here to help. We are only a phone call away. Contact us today and let Hammersmith Gas Engineers take care of your conventional boiler needs with professionalism, efficiency, and dedication.
FAQ:
What services do Hammersmith Gas Engineers provide for conventional boilers? A1: Hammersmith Gas Engineers provide a range of services including installation, repair, and maintenance of conventional boilers in Hammersmith.
Why should I choose Hammersmith Gas Engineers for my boiler needs? A2: Hammersmith Gas Engineers prioritizes customer satisfaction, safety, and quality. Our engineers are professionally trained and our services are competitively priced.
Can Hammersmith Gas Engineers help with emergency boiler repairs? A3: Yes, Hammersmith Gas Engineers offer emergency boiler repair services. Our engineers are ready to help solve your boiler issues promptly and safely.
How can I schedule a service with Hammersmith Gas Engineers? A4: You can schedule a service with us by contacting us directly through our website or phone number. Our customer service team will guide you through the process.
How do I know if my conventional boiler needs repair or replacement? A5: If your boiler is making unusual noises, not heating efficiently, or constantly requires repair, it might need a repair or replacement. Contact Hammersmith Gas Engineers for a professional evaluation.