boiler installation services
Premier Potterton Boiler Installation in Hammersmith: Your Trusted Partner for Heating Solutions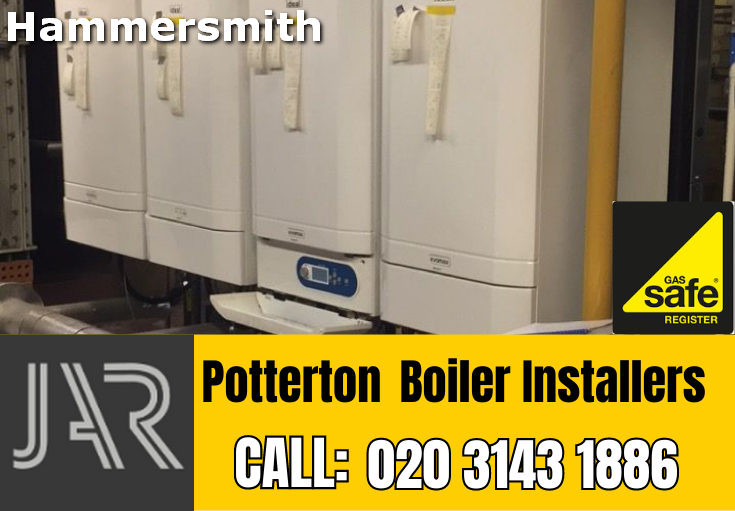 Trust Hammersmith Gas Engineers for Your Potterton Boiler Installation
Hammersmith Gas Engineers take immense pride in our reputation as the foremost experts in Potterton boiler installations in Hammersmith. Potterton boilers are renowned for their quality, energy efficiency, and long-lasting performance. As certified experts, we provide premium services that guarantee a seamless, efficient, and worry-free installation process.
Why Choose Potterton Boilers?
Potterton is a renowned boiler brand, with over 150 years of delivering reliable heating services in the UK. The benefits of choosing Potterton boilers include:
Energy Efficiency: Potterton boilers are designed for maximum energy efficiency, meaning lower energy bills for you.
Reliability: The brand has an excellent track record of robust and reliable boilers, ensuring your peace of mind.
Variety: Whether you need combi, system, or heat only boilers, Potterton offers a diverse range of products to suit every home and budget.
Why Hire Hammersmith Gas Engineers for Potterton Boiler Installation Hammersmith?
Experience and Expertise:
With our extensive experience and industry expertise, we provide unbeatable Potterton boiler installation services. We understand the specifics of these boilers, ensuring we can install them seamlessly and efficiently in any home.
Certified Engineers:
At Hammersmith Gas Engineers, every member of our team holds the necessary Gas Safe Register certification to operate professionally within the field. This isn't merely a prerequisite but a non-negotiable standard in our hiring process.
Exceptional Customer Service:
From the initial consultation to the completion of the installation, our focus is on delivering a service that exceeds your expectations. We pride ourselves on providing reliable, friendly, and professional service, establishing trust and building long-lasting relationships with our clients.
High-Quality Workmanship:
Quality is our watchword at Hammersmith Gas Engineers. Every installation is carried out to the highest standard, guaranteeing you get the best out of your Potterton boiler. We back our service with a reliable warranty, ensuring each job we undertake comes with an assurance of quality and durability.
24/7 Availability:
We understand that your need for a new boiler installation might be urgent. That's why we offer round-the-clock service. Whether you want the installation done at an odd hour or during the weekend, we're just a phone call away.
How We Operate
Our process starts with a thorough evaluation of your home to understand your unique heating needs. We then recommend the most suitable Potterton boiler model for your situation. Once you're happy with our recommendation, we proceed with the installation, ensuring all aspects of the job are carried out meticulously.
We adhere to all safety guidelines and industry standards. After installation, we don't just leave; we take time to explain the operation of your new boiler and answer any queries you might have.
When it comes to Potterton boiler installation in Hammersmith, nobody wows clients like we do at Hammersmith Gas Engineers. Our on-time guarantee, 100% customer satisfaction guarantee, and our exceptional customer service set us apart. Contact us today and experience the Hammersmith Gas Engineers difference for yourself.
Ensuring Long-Term Performance
At Hammersmith Gas Engineers, our job doesn't end with installation. We understand that your Potterton boiler is an investment, and it's our aim to ensure it provides long-term value for you. We offer comprehensive servicing plans designed to keep your boiler running at peak performance and efficiency. Regular servicing is key to extending the lifespan of your boiler, identifying potential issues before they escalate into costly repairs or cause damage to your property.
Maintenance and Emergency Services
Boiler emergencies are unpredictable. They can happen at the most inconvenient times, causing significant disruption to your comfort and routine. At Hammersmith Gas Engineers, we provide 24/7 emergency boiler services, ensuring we're always available when you need us most. Our team is trained to handle all kinds of boiler issues promptly and efficiently, ensuring minimal downtime and restoring your home's comfort as quickly as possible.
Choose from a Wide Range of Potterton Boilers
As a trusted Potterton boiler installation service in Hammersmith, we provide access to a wide range of Potterton boilers. Whether you're interested in combi boilers, system boilers, or heat-only boilers, we can guide you through the options available and help you choose the right model for your needs.
Potterton offers boilers that are suitable for all types of homes and businesses, from compact models ideal for smaller properties to larger models capable of heating extensive spaces. All Potterton boilers are built with the same commitment to quality, reliability, and energy efficiency, ensuring excellent value for money regardless of the model you choose.
Invest in Your Comfort with Hammersmith Gas Engineers
Investing in a new boiler is a major decision. It's about more than just buying a product; it's about investing in your comfort and peace of mind. At Hammersmith Gas Engineers, we understand this. Our mission is to ensure that every boiler installation we undertake delivers on its promise of warmth, comfort, and reliable performance.
With our team of certified and experienced engineers, you can rest assured that your Potterton boiler will be installed correctly and operate efficiently. Our commitment to customer satisfaction means we're always ready to go the extra mile, providing personalised service and attention to detail.
Reach out to us today to learn more about our Potterton boiler installation services in Hammersmith. Let us help you invest in your comfort and peace of mind.
We at Hammersmith Gas Engineers are ready to make your Potterton boiler installation a seamless, stress-free experience. Contact us today to schedule a consultation and to learn more about how we can enhance your home or business's heating efficiency and comfort.
Don't settle for less when it comes to your comfort. Choose Hammersmith Gas Engineers for your Potterton boiler installation in Hammersmith.
FAQ:
Q1: Why should I choose Hammersmith Gas Engineers for my Potterton boiler installation?
At Hammersmith Gas Engineers, we provide high-quality installation services with a focus on customer satisfaction. Our professional gas engineers are trained to handle all types of Potterton boiler models, ensuring reliable and efficient installation.
Q2: Do you provide servicing and maintenance for Potterton boilers?
Yes, we offer comprehensive servicing and maintenance plans for Potterton boilers. Regular servicing helps to extend the lifespan of your boiler and maintain its peak performance.
Q3: Do you handle boiler emergencies?
Absolutely. We understand that boiler issues can occur at any time. That's why we provide 24/7 emergency boiler services, ensuring we're always available when you need us most.
Q4: What type of Potterton boilers do you install?
A: We offer a wide range of Potterton boilers including combi boilers, system boilers, and heat-only boilers. Our team can guide you to choose the right model that suits your needs and property type.
Q5: How do I schedule a Potterton boiler installation?
You can reach out to us via our contact details provided on the website. Our team will assist you in scheduling a consultation and moving forward with your Potterton boiler installation.