underfloor heating services
Experience Comfort and Efficiency with Underfloor Heating in Hammersmith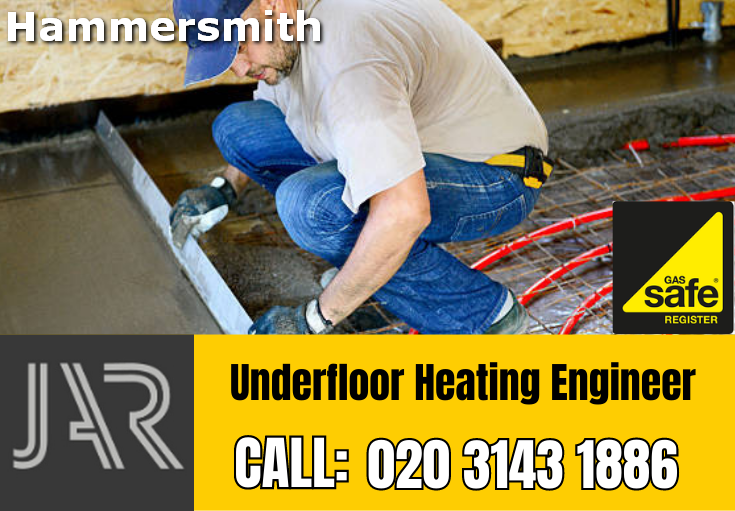 Transform Your Comfort with Underfloor Heating in Hammersmith – Your Local Experts are Ready to Help Hammersmith, W6
When it comes to heating solutions, underfloor heating stands as one of the most efficient and comfortable options available. At Hammersmith Gas Engineers, we specialise in providing high-quality underfloor heating installations in Hammersmith and the surrounding areas.
Why Choose Underfloor Heating?
Underfloor heating systems have been growing in popularity due to their high energy efficiency and unparalleled comfort levels. Unlike traditional radiators that heat the air unevenly, underfloor heating provides a consistent heat level across the room, right where you need it - at the floor level. As such, no cold spots are left untouched, creating a perfect heating balance in your living or working space.
Expert Underfloor Heating Installation Services in Hammersmith
We at Hammersmith Gas Engineers pride ourselves on delivering top-tier underfloor heating installation services in Hammersmith. We cater to both domestic and commercial properties, offering solutions for new builds, extensions, and refurbishments. Whether you're looking for a wet (hydronic) or electric underfloor heating system, our expert team can guide you through the process, advising the best option tailored to your specific needs and preferences.
Quality Workmanship and Products
Quality underpins everything we do. We work only with high-grade products sourced from reliable manufacturers, ensuring that your underfloor heating system stands the test of time. Our skilled and experienced technicians follow strict installation procedures, adhering to all industry standards and regulations. This meticulous approach allows us to guarantee superior workmanship and customer satisfaction.
A Seamless Installation Experience
We understand that home improvements, such as installing underfloor heating, can be disruptive to your daily life. That's why we strive to make the process as smooth and hassle-free as possible. Our team works efficiently to minimise downtime, and we always leave your property clean and tidy once the installation is complete.
Why Choose Hammersmith Gas Engineers for Your Underfloor Heating Installation?
Professional, Gas Safe Registered Engineers: Our engineers are highly trained, fully qualified, and Gas Safe registered, assuring you that we are equipped to carry out all work to the highest standards of safety and efficiency.

Comprehensive Services: We provide a full range of services, including installation, maintenance, and repair of underfloor heating systems.

Transparent Pricing: We offer competitive rates with no hidden costs. Before starting any work, we provide a detailed quote outlining all expenses related to your underfloor heating installation.

Excellent Customer Service: We value our customers and strive to provide the best service possible. From the first point of contact to project completion, we ensure clear communication and a hassle-free experience.

Guaranteed Satisfaction: Our job isn't complete until you are 100% satisfied. We stand by the quality of our work and aim to exceed your expectations.
Ready to Experience the Benefits of Underfloor Heating? Contact Hammersmith Gas Engineers Today!
Transform your comfort with underfloor heating in Hammersmith. At Hammersmith Gas Engineers, we're ready to help make your home or business a cozier place. Contact us today to schedule a consultation and take the first step towards enjoying the benefits of a high-quality underfloor heating system.
Additional Advantages of Underfloor Heating
A step beyond the core comfort and heating benefits, underfloor heating also contributes to an enhanced aesthetic appeal. With underfloor heating, there is no need for bulky radiators, allowing you more freedom in room layout and design. This is particularly beneficial in modern, minimalist homes where every square foot counts.
Furthermore, underfloor heating systems offer better air quality compared to traditional radiators. They work by radiating heat from the floor upwards, reducing the amount of dust that circulates around the room. This can be particularly beneficial for those who suffer from allergies.
Our Commitment to Green Practices
At Hammersmith Gas Engineers, we recognize the importance of environmentally friendly practices. Underfloor heating systems are known for their high energy efficiency, reducing your carbon footprint. By choosing us for your underfloor heating installation, you're not only selecting a service that prioritizes quality and customer satisfaction, but you're also making a choice that benefits the environment.
Post-Installation Support
Our responsibility does not end with the installation. We offer post-installation support and yearly maintenance services to ensure your underfloor heating system remains in optimal condition. If any issue arises, our team is always ready to provide quick and effective solutions.
Proudly Serving Hammersmith
As a local company, we understand the specific needs and challenges of properties in Hammersmith. This local insight, combined with our broad industry knowledge, enables us to offer services that are truly tailored to your needs. We're not just another faceless company - we're your neighbours and we're dedicated to enhancing the comfort and efficiency of homes and businesses throughout our community.
Contact Hammersmith Gas Engineers
Experience a new level of comfort with underfloor heating. Don't let the cold get you down - call Hammersmith Gas Engineers today. Let's discuss how we can bring the superior warmth and efficiency of underfloor heating to your Hammersmith property.
FAQ:
What is underfloor heating? Underfloor heating is a modern, efficient heating method that heats your home from the floor upwards, providing an evenly distributed warmth unlike traditional heating systems.

Why should I choose underfloor heating? Underfloor heating provides numerous benefits such as uniform heat distribution, improved energy efficiency, enhanced interior aesthetics, and better air quality by reducing dust circulation.

Why should I choose Hammersmith Gas Engineers for underfloor heating installation? At Hammersmith Gas Engineers, we combine our broad industry knowledge with specific local insights. Our experienced team offers high-quality installation, comprehensive post-installation support, and a commitment to green practices.

What areas do Hammersmith Gas Engineers serve? While we're based in Hammersmith, we offer our underfloor heating installation and other services to homes and businesses throughout the local area.

What other services do Hammersmith Gas Engineers offer? Apart from underfloor heating installation, Hammersmith Gas Engineers offer a wide range of services including boiler installation and repair, gas installation, annual boiler servicing, and emergency boiler repairs.