power flush services
Boost Your Heating Efficiency with Expert Power Flush Services in Hammersmith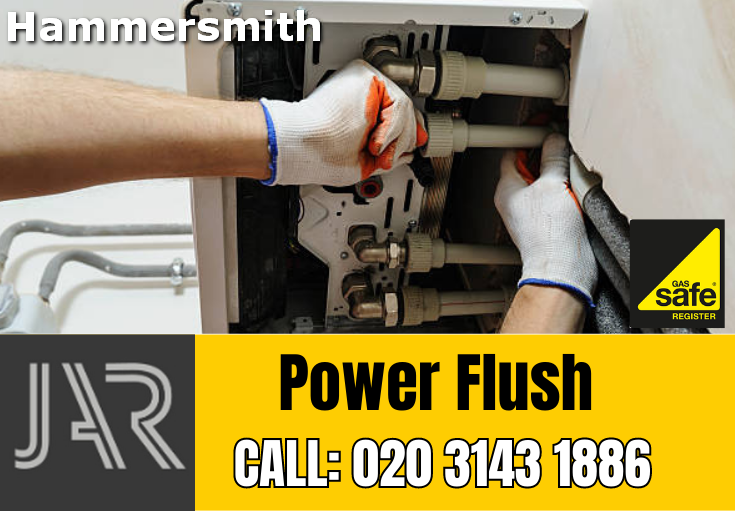 Enhancing Your Heating System's Performance: Power Flush Hammersmith with Hammersmith Gas Engineers
Your heating system is a crucial part of your home, providing you with warmth during the cold seasons and supplying hot water for daily needs. Over time, like any mechanical system, it can start to show signs of inefficiency due to the build-up of sludge, rust, and other debris in your pipes and radiators. This is where power flushing comes into play, and nobody does it better in Hammersmith than we do at Hammersmith Gas Engineers.
Why You Need Power Flushing Hammersmith
The circulation of water in your heating system can lead to the formation of rust inside your radiators and pipes. The rust, along with other debris, can accumulate and create sludge, a thick, muddy substance that can obstruct the flow of water, causing your system to work harder to heat your home. This inefficiency can result in higher energy bills, cold spots in your radiators, noisy systems, and even system breakdowns.
Power flushing is a process that involves sending a low pressure, high flow rate of specially formulated chemicals through the system to remove the sludge and restore your heating system's efficiency. The benefits are immediate: your system becomes quieter, radiators heat up more quickly and evenly, and your energy bills can be significantly reduced.
Power Flush Hammersmith: Our Process
At Hammersmith Gas Engineers, our highly trained engineers follow a detailed, methodical process for power flushing. We start by adding a cleaning chemical to the system and circulating it to loosen the sludge. Next, we connect our power flushing machine and flush each radiator individually until the water runs clear. Finally, we add a corrosion inhibitor to the system to prevent future rust formation.
Why Choose Hammersmith Gas Engineers for Your Power Flush Needs
Expertise: Our team comprises Gas Safe registered engineers who are experts in power flushing. We understand the nuances of different heating systems and adjust our process accordingly to deliver the best results.

Customer-Centric Approach: We believe in providing exceptional service. From the moment you contact us, our focus is on understanding your needs and providing the most effective solution.

Value for Money: By restoring your heating system's efficiency, a power flush can help you save on energy bills in the long run. We offer this vital service at competitive rates.
Our Guarantee
We stand by the quality of our work. When you choose Hammersmith Gas Engineers for your power flushing needs, you can be confident that you're choosing a service that aims for 100% customer satisfaction.
Don't let an underperforming heating system cause you discomfort and unnecessary expenses. Contact Hammersmith Gas Engineers today for your power flush needs in Hammersmith, and let our experts restore your system's efficiency. Trust us, you'll feel the difference.
Advanced Equipment and Safe Chemicals
At Hammersmith Gas Engineers, we utilise cutting-edge equipment to ensure the power flush process is both efficient and thorough. Our engineers use high-quality power flushing machines, capable of achieving the optimal flow rate required to dislodge even the most stubborn debris in your heating system.
Moreover, we use only the safest and most effective power flush chemicals in the industry. These solutions are designed to loosen sludge and rust without causing damage to your heating system.
Signs That You Need a Power Flush in Hammersmith, W6
Recognizing the need for a power flush can help you take timely action and prevent further damage to your heating system. Here are some signs indicating that your heating system might require a power flush:
Cold spots at the bottom of your radiators
Noisy boiler or heating system
Heating takes a long time to warm up
Some rooms are colder than others
Discoloured water when you bleed your radiators
Frequently needing to restart your boiler
If you notice any of these signs, get in touch with us for a comprehensive heating system check. Our expert engineers will determine whether a power flush is the best solution for your heating system issues.
Aftercare and Maintenance
Once your power flush service is complete, we'll provide you with advice on how to maintain your heating system's efficiency. This might include the installation of a magnetic filter to catch any future rust and prevent it from circulating in your system, and periodic checks of the system to ensure it's operating at optimal efficiency.
Our commitment to your heating system's efficiency and longevity doesn't stop after the power flush. We offer regular maintenance and check-up services to ensure that your system remains efficient and safe.
Act Now for an Efficient Heating System
Proactive maintenance of your heating system can save you from high energy bills and costly repairs or replacements in the future. Trust Hammersmith Gas Engineers for your power flush needs in Hammersmith. Our expertise, customer-focused service, and commitment to excellence make us the preferred choice for many in the area.
Remember, an efficient heating system isn't a luxury - it's a necessity. Reach out to us today and take a proactive step towards a more efficient and reliable heating system with our power flush service. Our friendly and professional team is waiting to serve you.
FAQ:
What is a power flush?
A power flush is a cleaning process that clears the sludge, rust and other debris from your central heating system, improving efficiency and prolonging its lifespan.
How do I know if my system needs a power flush?
Signs that your system might need a power flush include cold spots on radiators, noisy boiler or heating system, discoloured water when you bleed your radiators, and needing to frequently restart your boiler.
How long does a power flush take?
The duration of a power flush can vary based on the size and condition of your heating system. Typically, a power flush can take anywhere from 6 to 10 hours.
How often should I get a power flush?
As a general rule, it is recommended to have your heating system power flushed every 5-6 years. However, this can vary based on your system's condition and usage.
Why choose Hammersmith Gas Engineers for power flush services?
Hammersmith Gas Engineers is a trusted provider of power flush services in Hammersmith, known for high-quality work, exceptional customer service, and commitment to restoring and maintaining your heating system's efficiency.