radiator installation services
Trusted Radiator Installation Services in Hammersmith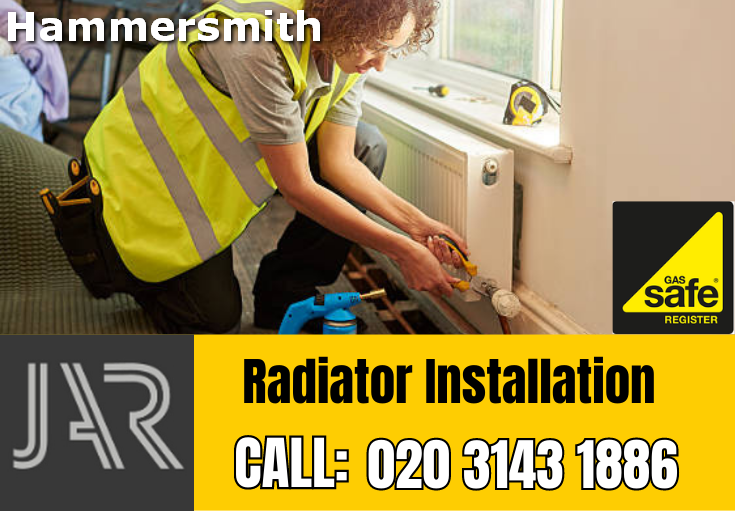 Superior Radiator Installation Services in Hammersmith: Why You Should Choose Hammersmith Gas Engineers
Who We Are
At Hammersmith Gas Engineers, we pride ourselves on being the leading provider of radiator installation services in Hammersmith. With our industry experience, highly skilled engineers, and commitment to customer satisfaction, we've consistently delivered top-notch services to all our clients.
Why Radiator Installation?
Radiator installation is a crucial part of any central heating system. It ensures an efficient distribution of heat throughout your home or office, providing comfort and warmth during cold weather. With proper installation, radiators can significantly enhance your energy efficiency and reduce your heating bills.
Why Choose Hammersmith Gas Engineers for Your Radiator Installation in Hammersmith?
Unrivalled Experience
We have a wealth of experience in handling radiator installations of various makes and models. This experience allows us to provide reliable and efficient services to our customers, ensuring that their radiators are installed correctly and work optimally.
Qualified Gas Engineers
Our team comprises qualified gas engineers who are Gas Safe registered. This means we adhere to the highest safety standards and regulations in the industry. You can rest assured that your radiator installation is in safe hands.
Customer-Centric Approach
At Hammersmith Gas Engineers, we place the needs of our customers at the heart of our operations. We understand that every home or office is unique, and so are their heating needs. As such, we provide tailored radiator installation services that meet our clients' specific needs.
24/7 Emergency Services
We understand that heating emergencies can happen at any time. Therefore, we offer 24/7 emergency radiator installation services in Hammersmith. Our engineers are always ready to respond to your needs swiftly and efficiently.
Importance of Professional Radiator Installation
Professional radiator installation is paramount for several reasons. Firstly, it ensures the radiator is installed correctly, which is crucial for its efficiency and longevity. Secondly, it prevents potential issues that could arise from poor installation, such as leaks or inadequate heating. Lastly, it gives you peace of mind knowing that your installation was carried out by professionals who adhere to the highest safety standards.
How We Conduct Our Radiator Installation
At Hammersmith Gas Engineers, we follow a comprehensive process when conducting radiator installations:
Consultation and Assessment: We first conduct a thorough assessment of your property to understand your heating needs. We then recommend the best radiator type and model that will serve your needs efficiently.

Installation: Our engineers proceed to install the radiator professionally, adhering to all safety standards and regulations.

Testing and Inspection: After the installation, we conduct a thorough inspection and testing to ensure the radiator works optimally.

Post-Installation Support: Our relationship with our clients doesn't end after the installation. We offer post-installation support to ensure your radiator continues to serve you efficiently.
Radiator installation is not a DIY project. It requires professional skills and adherence to safety standards. At Hammersmith Gas Engineers, we offer top-tier radiator installation services in Hammersmith. Our commitment to quality, customer satisfaction, and safety is what sets us apart. So why wait? Contact us today for all your radiator installation needs in Hammersmith.
Superior Aftercare
The reason why Hammersmith Gas Engineers stand out among other providers of radiator installation services is our superior aftercare. We believe that our commitment to you doesn't end once we've installed your new radiator. Rather, we see this as the start of our long-term relationship.
We provide helpful advice on how to maintain your radiator, tips on how to use it efficiently, and a professional service for any maintenance needs you may have in the future. At Hammersmith Gas Engineers, we're with you for the long haul, ready to ensure your radiator system runs smoothly and efficiently for years to come.
Radiator Types We Install
Our team of professionals at Hammersmith Gas Engineers have extensive experience installing a wide range of radiator types. Whether you're looking for classic panel radiators, stylish column radiators, or modern underfloor heating systems, we have the skills and expertise to handle the installation.
We understand that different spaces have different heating needs, which is why we provide you with a variety of options to choose from. Our team will offer advice on the best type of radiator for your space based on your specific requirements and preferences.
Trustworthy and Transparent Services
At Hammersmith Gas Engineers, we pride ourselves on being a trustworthy and transparent service provider. From the initial consultation to the final installation, we ensure that you are kept in the loop every step of the way. Our quotations are detailed, our procedures explained, and we're always ready to answer any questions you may have.
We're committed to providing you with services that not only meet but exceed your expectations. We believe that this level of transparency and trust is what has earned us our reputation as the go-to radiator installation service provider in Hammersmith.
Affordable Radiator Installation Services
While radiator installation is an investment, we at Hammersmith Gas Engineers believe it shouldn't break the bank. That's why we offer our high-quality services at competitive rates, making us one of the most affordable providers in Hammersmith.
We're upfront with our costs, ensuring you know exactly what you're paying for without any hidden charges. Our aim is to provide you with high-quality services that provide value for your money.
Contact Hammersmith Gas Engineers Today
There's no better time than now to install or upgrade your radiator system. With Hammersmith Gas Engineers, you're assured of high-quality, professional, and affordable radiator installation services.
Reach out to us today to schedule a consultation. Let Hammersmith Gas Engineers be your trusted partner in ensuring your home or office stays warm and cozy. With us, you can rest easy knowing you're in capable and experienced hands.
FAQ
What types of radiators can Hammersmith Gas Engineers install?
We can install a wide range of radiators, including classic panel radiators, stylish column radiators, and modern underfloor heating systems.

What is included in your radiator installation services?
Our services cover everything from initial consultation, professional installation, aftercare advice, and maintenance.

Can I trust Hammersmith Gas Engineers with my radiator installation?
Absolutely! We pride ourselves on being trustworthy and transparent. We provide detailed quotations, explain our procedures, and are always ready to answer your questions.

Are your radiator installation services expensive?
We offer competitive rates for our high-quality services, making us one of the most affordable providers in Hammersmith.

How can I schedule a consultation?
Just reach out to us through our contact page or give us a call. We'll be happy to schedule a time that's convenient for you.